Howl if you want.
The Coyote by Fuel Motorcycles is a tough old dog for the roughest of terrain.
They say coyotes are smart and adaptable. A real tough dog and survivor that is at home on all types of terrain. Even in the desert, its wild howling can be heard. Karles Vives, a customizer from Spain at Fuel Bespoke Motorcycles, was fascinated by coyote dogs and felt sufficiently inspired to name his conversion of an R nineT Urban G/S after the predatory animal.
Light, classic, aggressive.
Light, classic, aggressive.
Nothing can be created out of nothing. That's why customizer Karles Vives needs a few drafts before he's satisfied with a design. Yet the final draft is far from the end. Once the design has been decided upon, everything else is just a matter of parts, which Karles has to obtain for the next stage and which he may have to customize. At this point, it may be necessary to deviate from the original idea. "But the end result is very close to the draft of the design," the Spaniard relates, satisfied with his R nineT G/S upgrade. He created the Coyote bike within five months with his mechanic Claudio and a few other specialists who got involved. Ideally, he would have liked to have just ridden it to his own garage and parked it there. "I like the shape of the motorcycle. It's much lighter, with a classic yet aggressive look." Coyote is consciously based on bikes from the 1950s, on which hard-nosed riders traversed the deserts of America – riding what were actually road bikes that had been converted for off-road use. Typical features include the higher exhaust system – enabling protection from stone swirl – an engine guard and a high bench, ideal for supporting riders on endless sections of rough terrain.
+ Lees verder
"
It is much more common to hear a coyote than to see it. "
Karles Vives
Fuel Bespoke Motorcycles
Everything in line.
Everything in line.
The greatest challenge for Karles is converting the fuel tank. A smaller, lighter tank is required – so the customizers modify the tank of an old Suzuki GT 250. But the original electric fuel pump has to be dismantled first and refitted elsewhere before the new tank will fit. His team also install an auxiliary fuel tank so the fuel pump, which is connected with the main fuel tank, can be housed in it. An additional construction is required to attach tank and bench at one height and set them in line.
+ Lees verder
At the rear too, the makers of Fuel Bespoke Motorcycles modify the frame, adding a rear bar to give the motorcycle a classic scrambler look. The seat bench in natural leather and suede blends in harmoniously. The Hollywood handlebars, the small headlight from a classic Spanish enduro with a chrome grille guard and chrome mudguards lend the Coyote a unique charm. The manifold pipes and exhaust are hand-made. The converted R nineT Urban G/S is rounded off by mini LED indicators, footrests by SW Motech and cylinder head covers with a retro look by BMW Motorrad. The chassis has been optimized with an adjustable hydraulic cartridge for the front forks by Andreani and a rear shock absorber by Öhlins (46 DRL BM 641). Karles opted for Continental TKC 80tyres – all-purpose tyres for all surfaces, on or off-road.
+ Lees verder
Frame
Modified standard frame, rear bar  
Bodywork
Tank of the Suzuki GT 250, bench with a natural leather and suede covering, chrome mud guards 

Front suspension
Hydraulic cartridge by Andreani  
Exhaust
Hand-made manifold pipes and exhaust  
Paint
Basic colour: white – with colour set of red, blue, yellow and black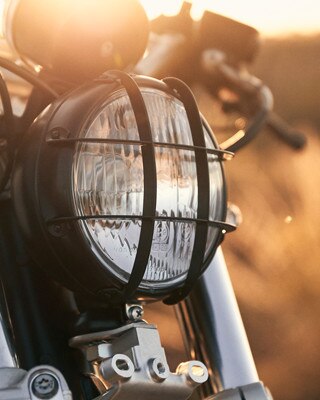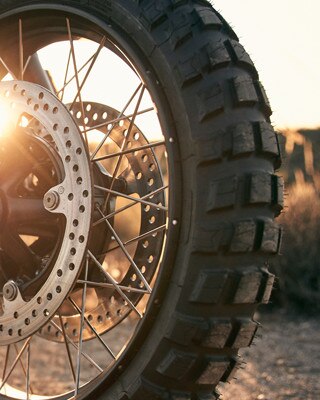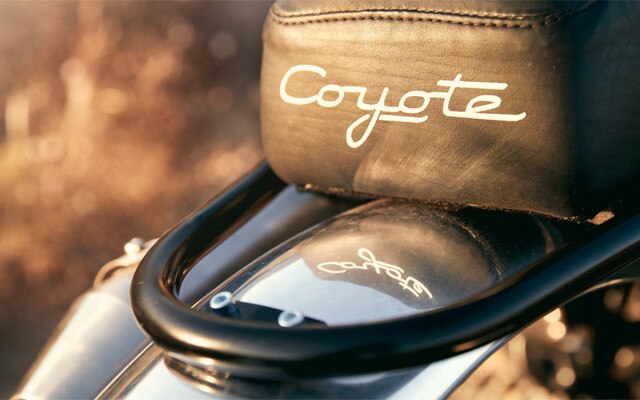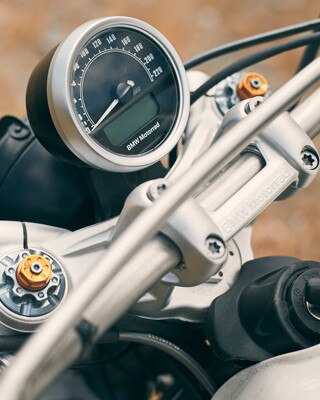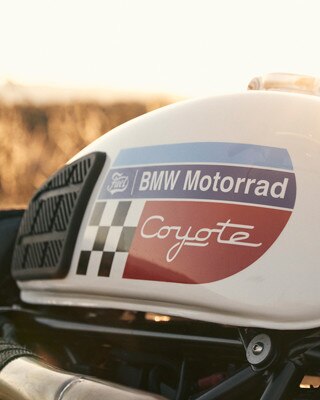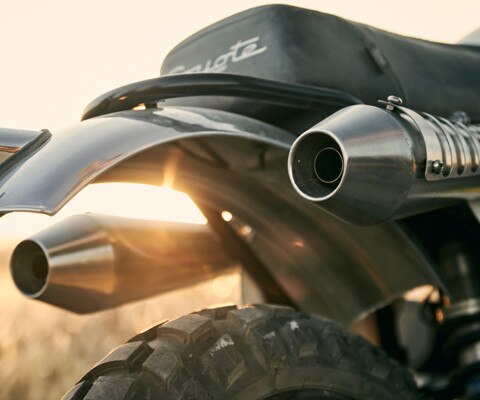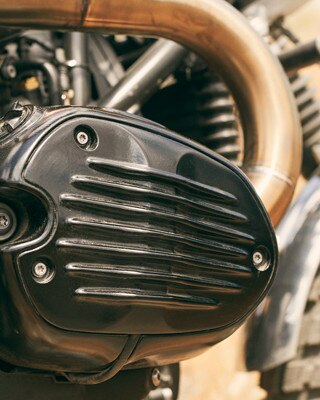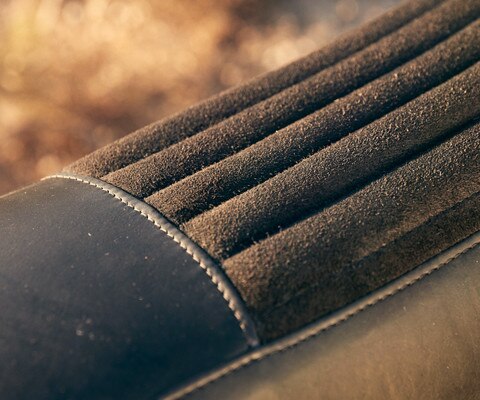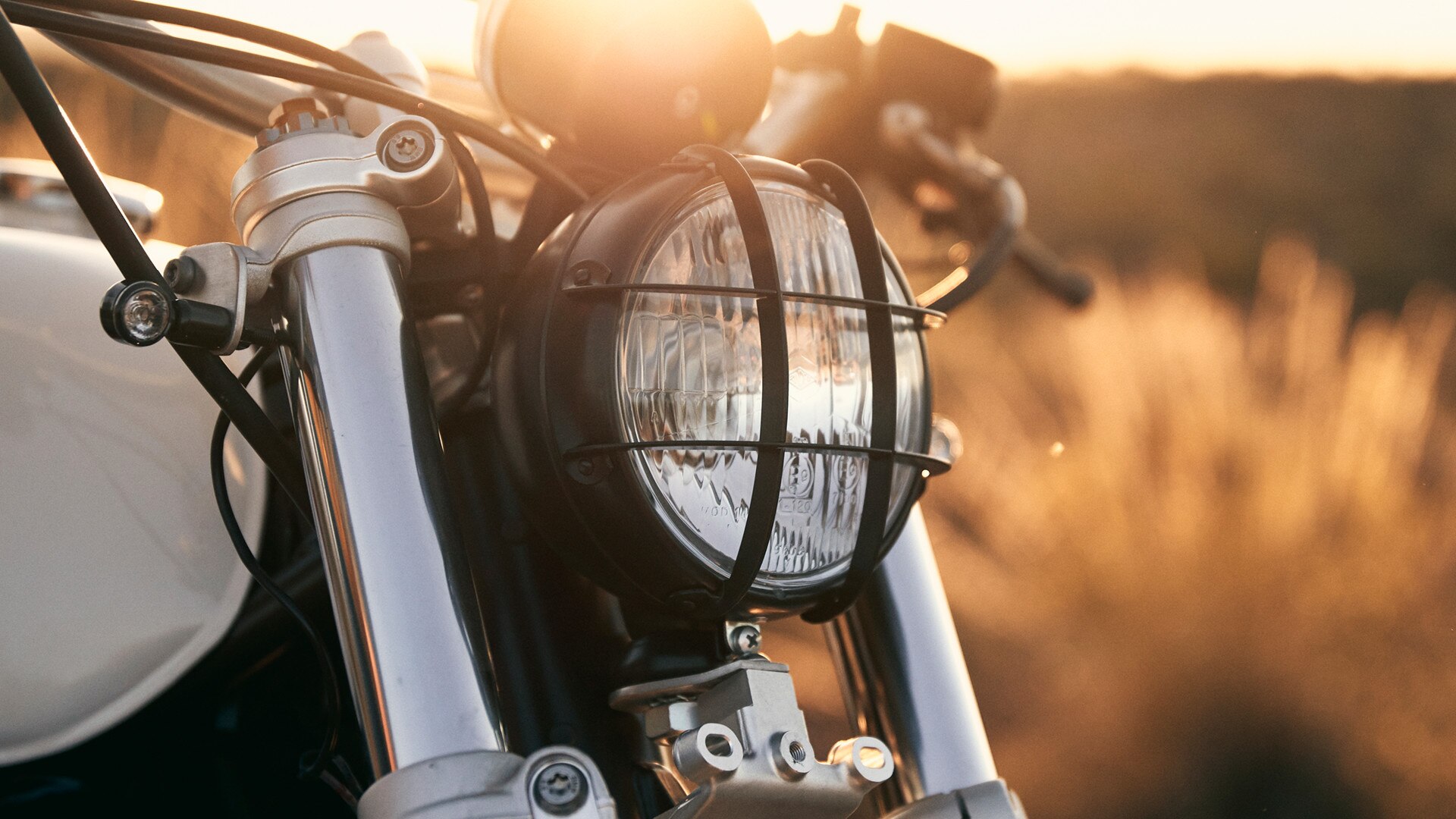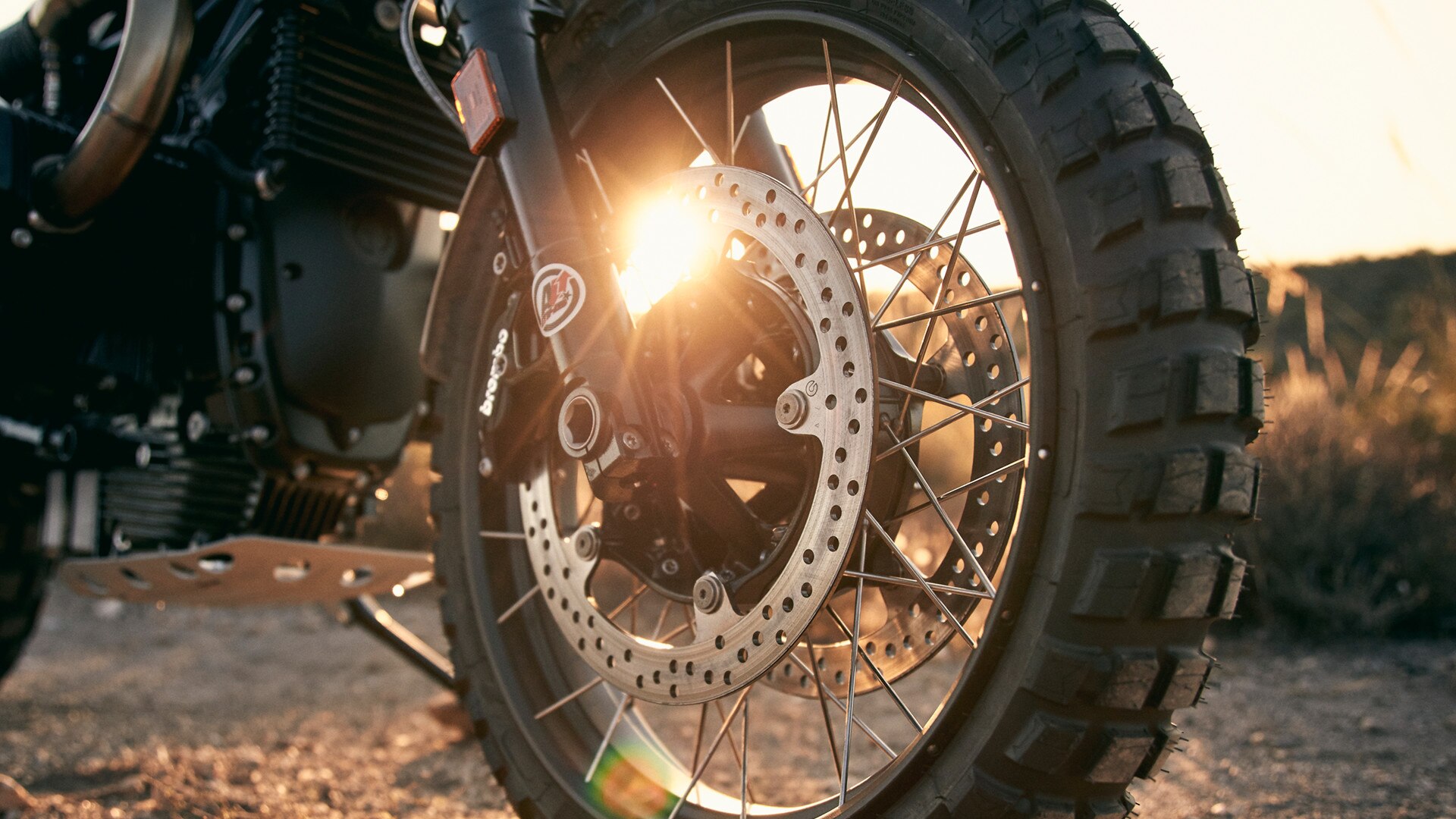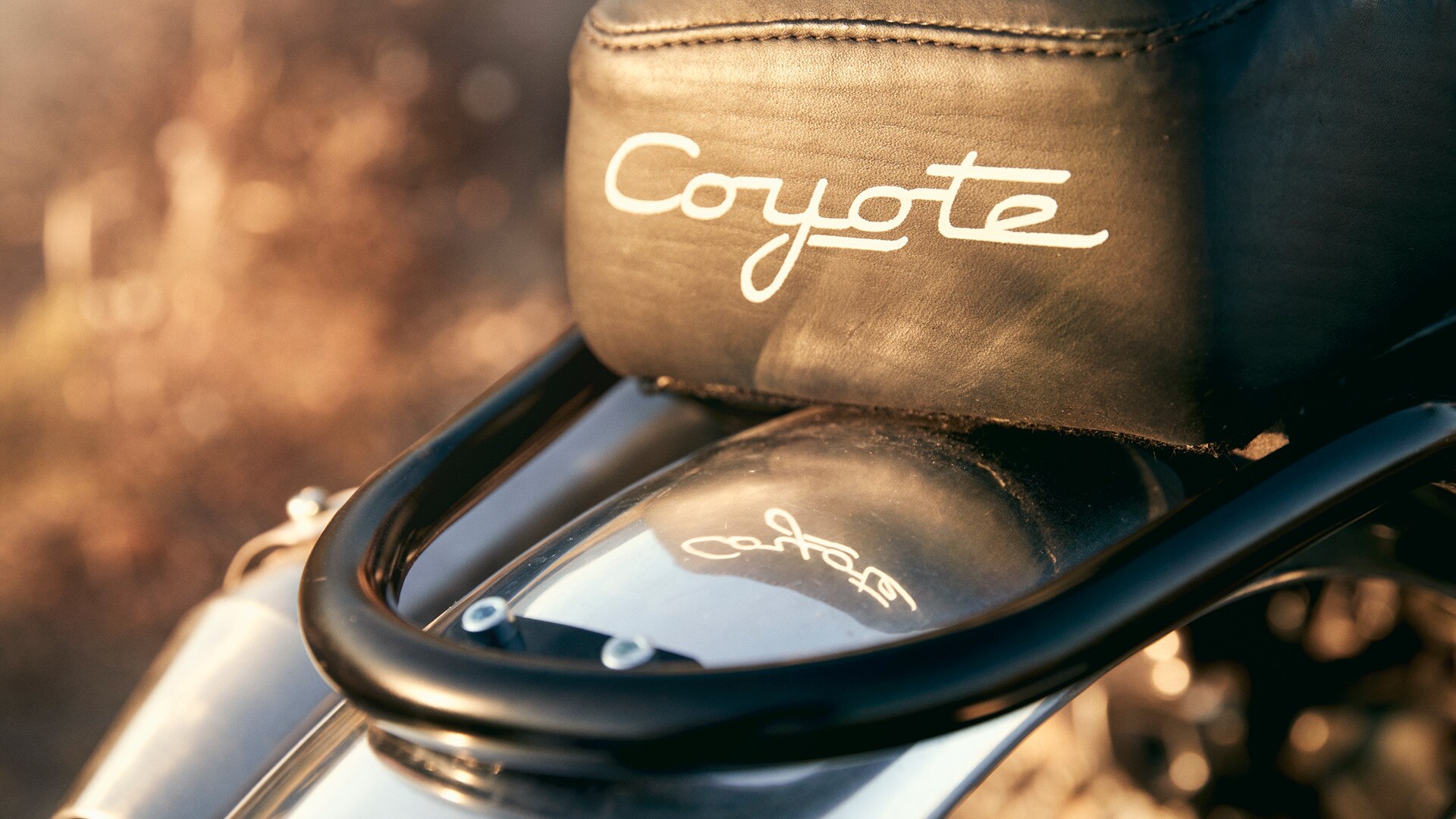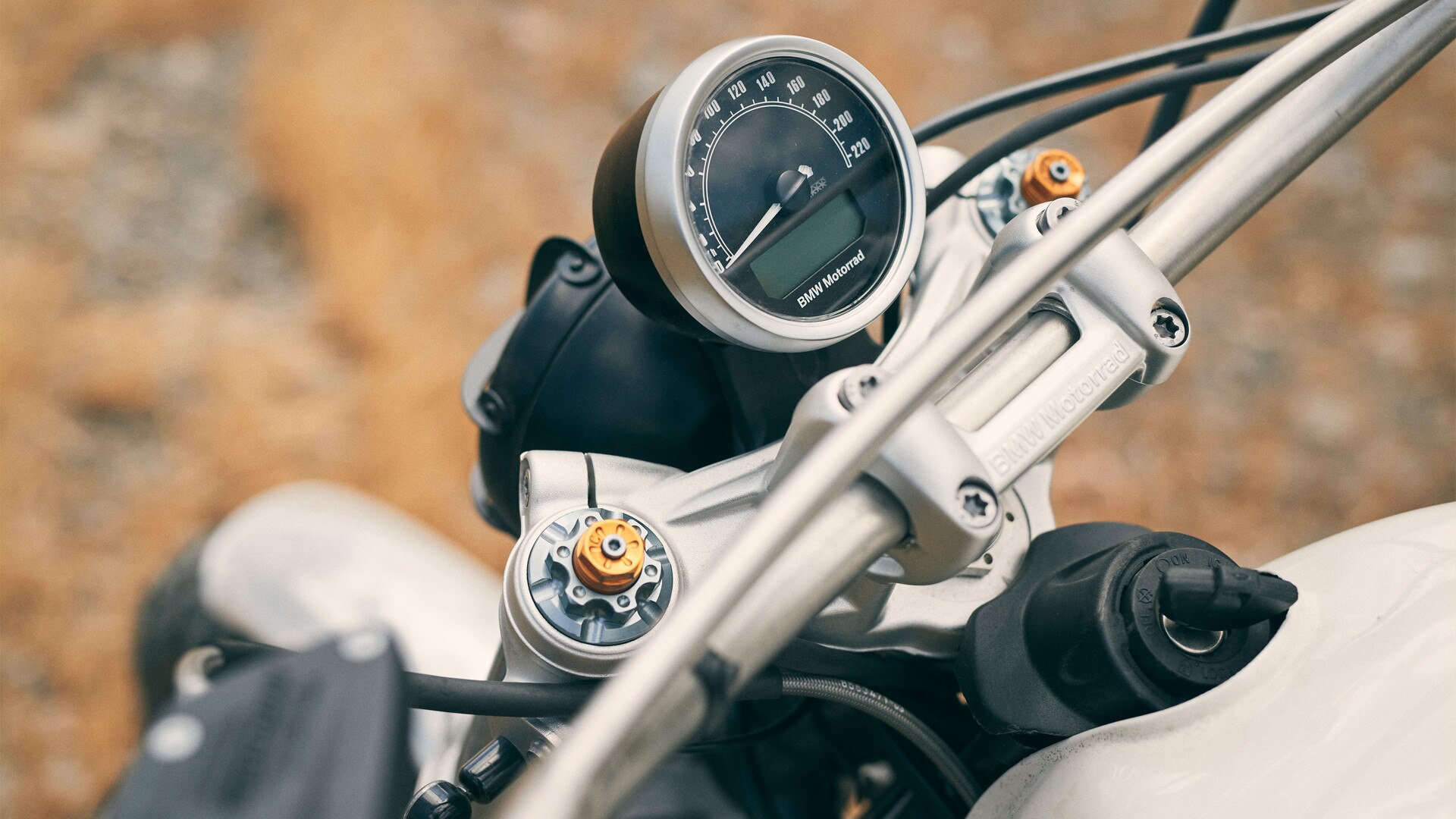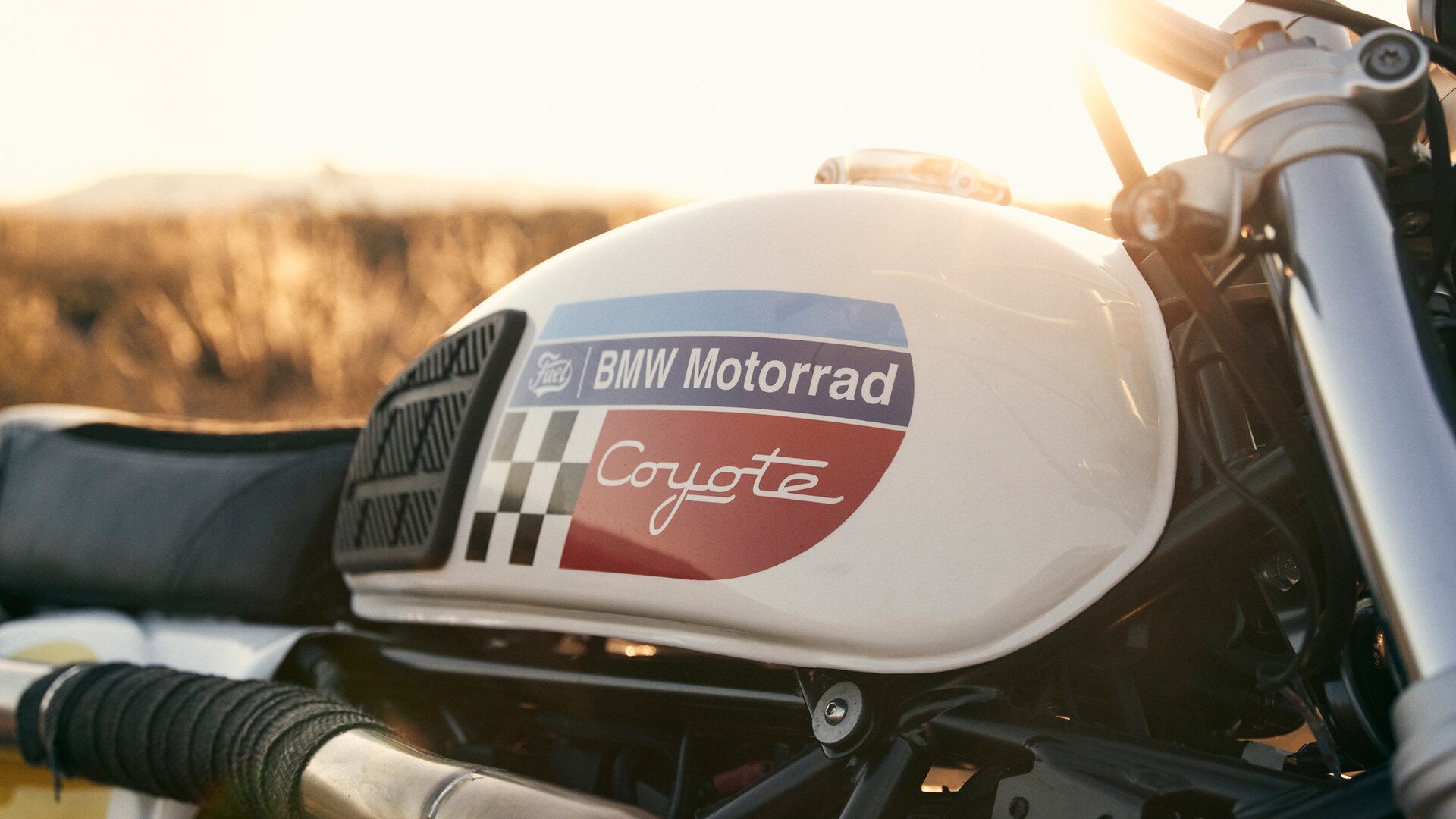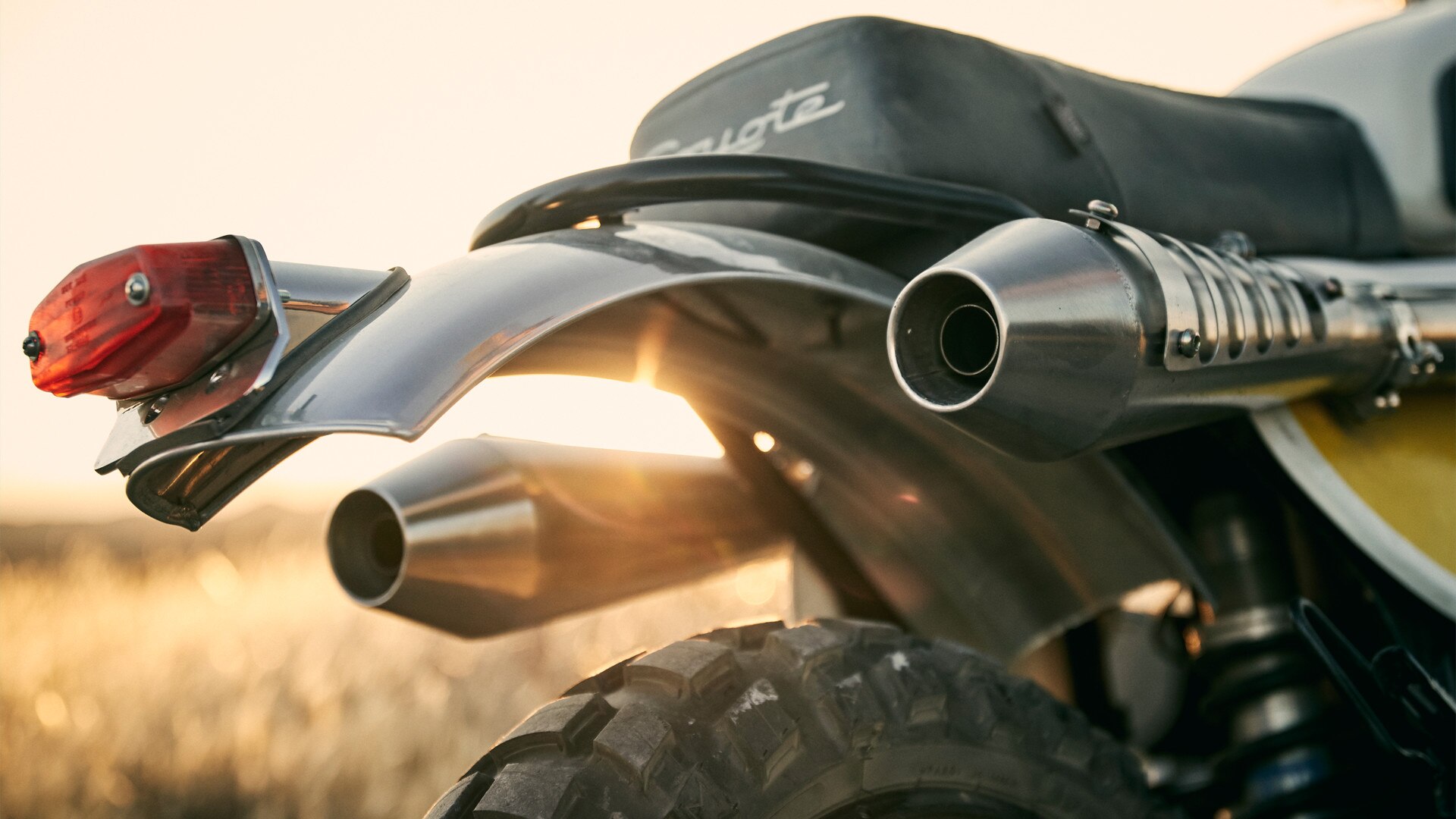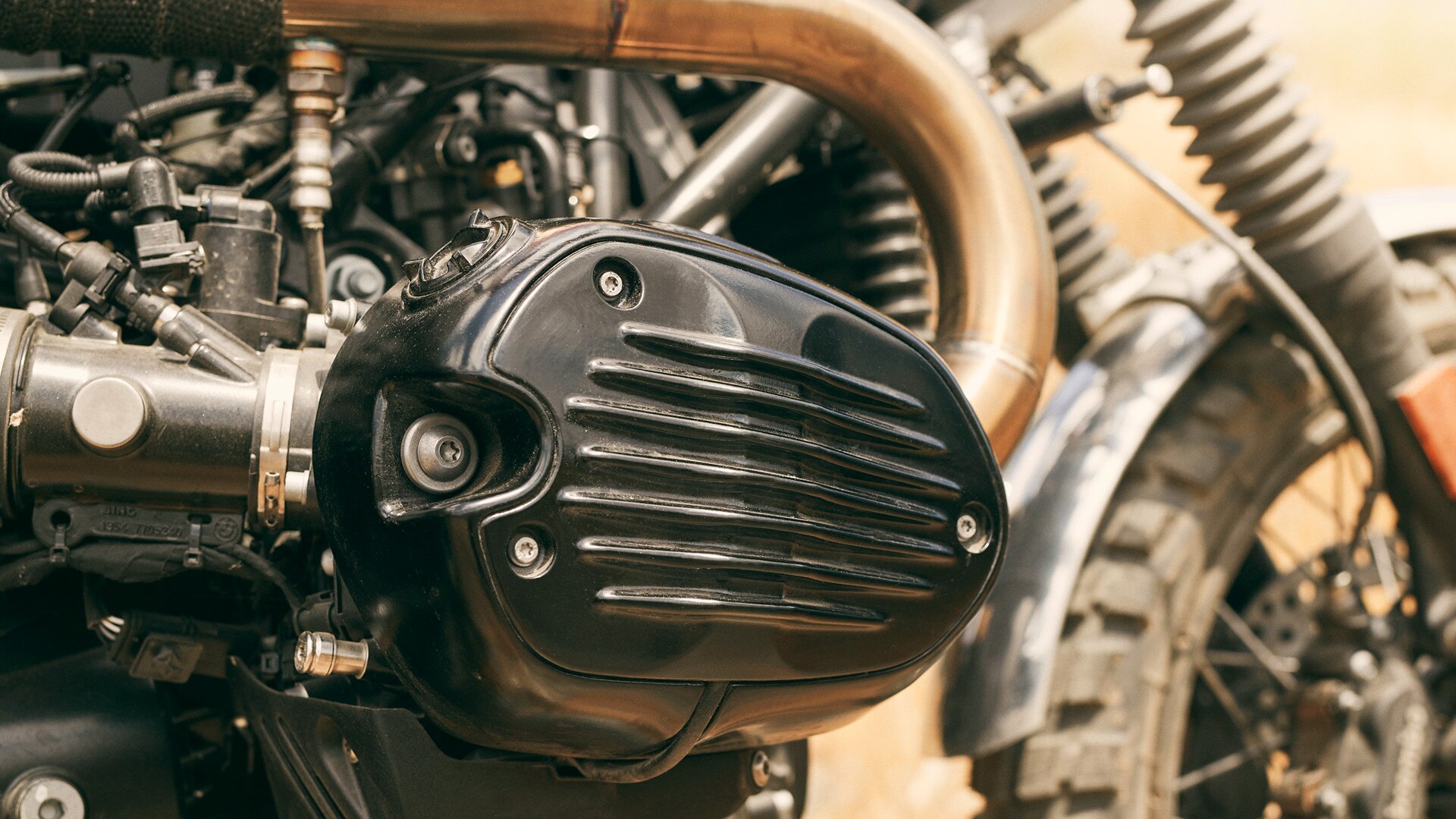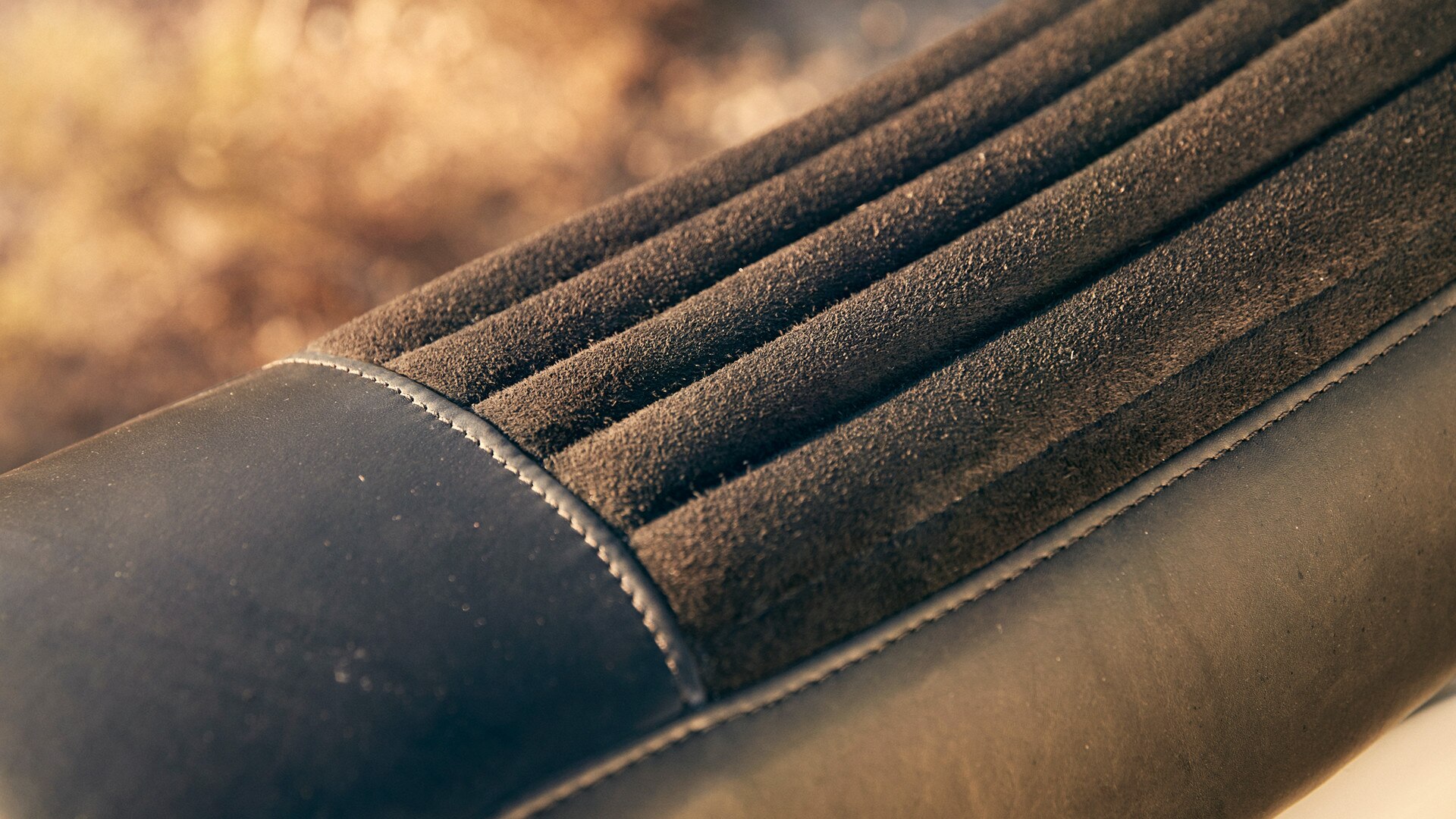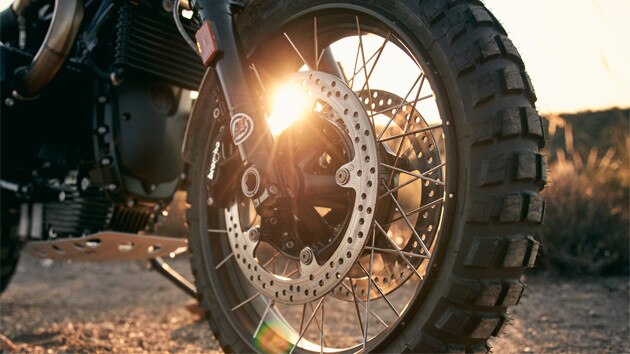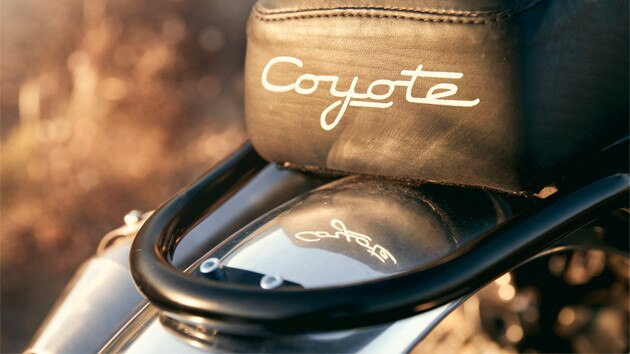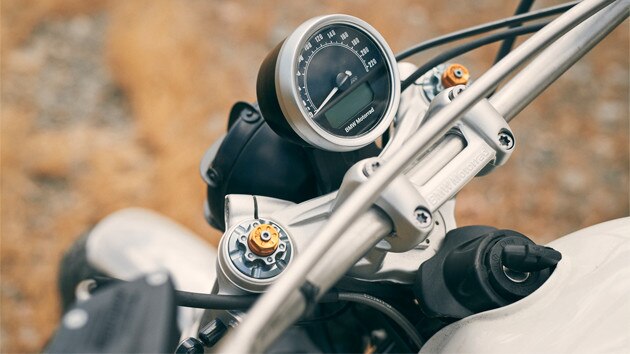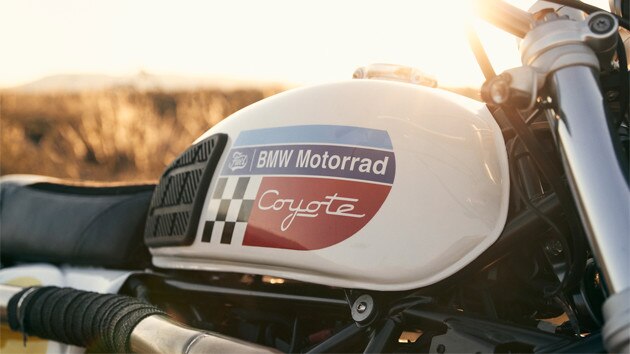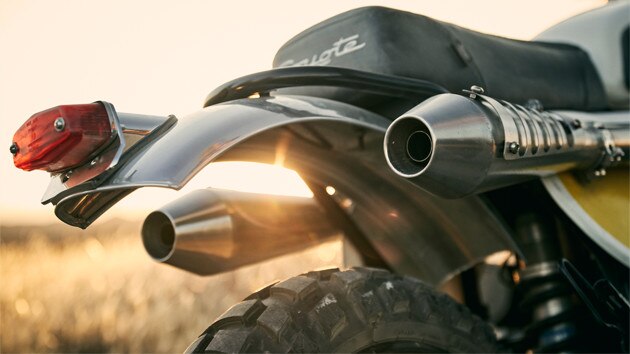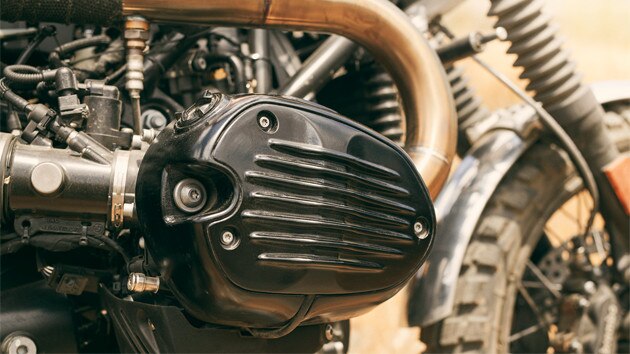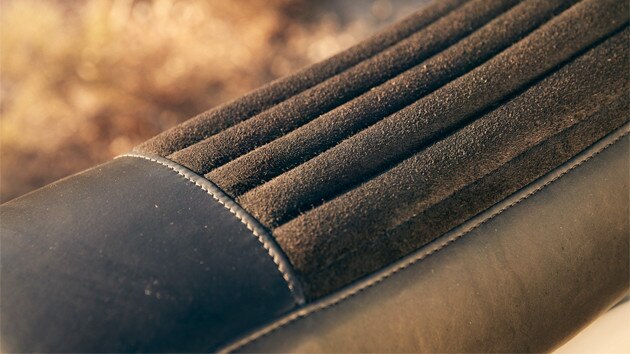 Experience a great adventure.
"We love the look of old dirt bikes," explains Karles, who started upgrading old boxers to scrambler and dirt track bikes in summer 2011. His first ever project was a BMW R 100 RT. The main idea was to create a comfortable bike with a cool look – without spending too much money. "I made a decision in favour of the scrambler style. It is a perfect bike that will take you on a great adventure because it can be driven on nearly all types of roads." This was the birth of the R 100 Scram, when the company Fuel Bespoke Motorcycles was founded. Since then Karles has expanded the team to include professional engineers and collaborates with select paint experts and welders to create a product of the highest standard with respect to mechanics and design. Once a year he organises a trip to Africa for nostalgic scrambler riders - the Scram Africa takes participants on around 2000 kilometres through Morocco. Ideal coyote terrain too. The engine's already howling. Ow-oooh!
+ Lees verder